Artificial Intelligence (AI) is changing every industry, including translation services. At the same time, translation services are becoming more important than ever as we live in a deeply connected world with a huge number of languages.
Translation tools are essential for professionals in the field who rely on the latest machine learning translation technologies they use in their daily lives.
Before we get into the best AI translation software and tools, it's important to define machine translation. Automatic translation of one language into another language, machine translation works by converting text from the source language and producing an equivalent in the target language.
Many translation services combine machine translation with human support to ensure that the translation is specific to the target audience. This also allows the content to use specific descriptions, social references and more.
Here are some of the best AI translation software and tools on the market.
By far the most popular translation software is Google Translate. Almost everyone has used it at some point. The free online machine translation tool allows you to translate text, documents and websites from one language to a target language.
Google Translate is arguably the most accessible AI translation tool on the market. It offers a simple design where all you have to do is select your languages, type the text and hit "translate".
The software translates to more than 100 languages ​​worldwide, and uses native speakers to train the AI ​​algorithm.
Some of the key features of Google Translate include:
Multilingual translation

Easy to use and very accessible

free

Proven translations

Discussion mode for mobile use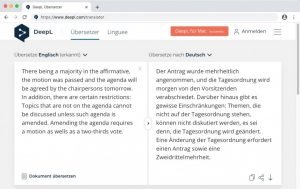 One AI translation tool that is steadily growing in popularity is DeepL, which is used by both businesses and individuals. The software has earned a great reputation for accurate translations.
DeepL is known for its intuitive interface and seamless integration into Windows and iOS. The tool gives you the opportunity to customize the translations, and you can have a lot of control over the automatic translation.
Another great feature of DeepL is that it preserves the original document format.
Some of the main features of DeepL include:
Translates 25+ international languages

There is no text limit.

Windows extension

Great for individuals and businesses

It preserves the formatting of the original document
Another top AI translation software is Alexa Translations, available in the language services industry since 2002. It is one of the best tools for translating documents in legal, financial, technical, marketing and government sectors.
Alexa Translations offers users customized and premium machine learning services, with AI translation being one of the fastest on the market. The tool is often integrated into human translation services.
Some of the main features of Alexa translations include:
Translates up to 100 documents in seconds

A top tool for the legal and financial industries

Customer-specific results

Translates web content

Integrates into human translation services
Developed by Microsoft, Bing Microsoft Translation is a machine translation cloud service. It is part of Microsoft Cognitive Services, integrated with platforms such as Bing, Microsoft Office, Microsoft Edge, Skype and Visual Studio.
The software provides text and speech translation via the cloud, and supports more than 100 languages ​​and 12 speech translation systems, including Microsoft Translator's live chat feature.
Microsoft Translator differentiates itself from other tools by providing the ability to translate with images, audio, options, and links.
Some of the key features of Bing Microsoft Translator include:
Semantic memory

Translation of text, real-time speech and images

Editing in context

Website translation widget

100+ languages
Another great AI translation software that provides accurate translations for 97 languages ​​is Taya. It combines artificial intelligence technology and experienced translators to achieve the best results.
The Thai translations process involves humans completing the translations first, using machine translation to speed up the process. Taya doesn't require you to install any programs, and it offers a quick price estimate.
The tool promises high-quality translations on time with a 99.4% customer satisfaction rate. The company provides long-term project support for those who need more than one translation.
Some of the key features of Taya include:
97 languages

It combines human translators and AI technology.

Quick rate estimates

99.4% customer satisfaction rate

Long-term project support
One of the AI ​​translation software and tools used by large corporations is Mirai Translation, which is a neural machine translation that works in multiple languages. Since the tool is compatible with many file formats, it helps companies increase their productivity and speed of translation.
Mirai is a cloud-based API provider service, and supports speech in addition to text translation. According to the company, the device offers a high level of security, and brings the same level of meaning as a business person with a TOEIC score of 960.
The AI ​​automatic translation solution is a great choice for corporate document translation, and is useful for any company dealing with multilingual projects. It also provides a user dictionary function for group translation of text and files.
Some of the key features of Mirai include:
Sector-specific definition

It supports various file formats

Many languages

Good for large corporations

Supports multilingual projects
A little different from the other tools on this list, Sonix is ​​great for video content creators. It's an amazing automated audio translator that offers a browser editor to search, edit, play and organize files.
Sonic's world-class language models quickly convert audio to text before helping to translate the transcripts into other languages. You have the opportunity to edit the transcript before the systems translate the text and the whole process is done in minutes.
With Sonix, you can make your text more accessible and ensure greater accuracy in translations. It offers the same quality as professional translators and interpreters but is more efficient. If you want to convert videos, tutorials or podcasts into another language, it provides an audio-to-audio translator.
Some of the main features of Sonix include:
A good choice for video content creators

Browser editor

Audio-to-audio translations

It converts audio to text before translating

Edit the text before translating
We offer you some site tools and assistance to get the best result in daily life by taking advantage of simple experiences